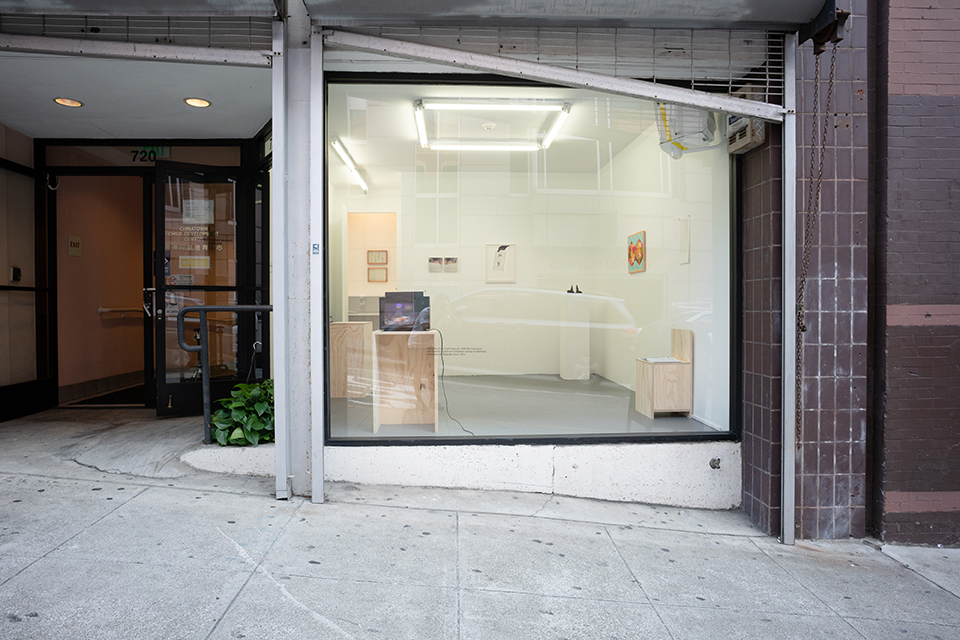 In 2018, curator Micki Meng founded a non-profit publication and research hub challenging the existing frameworks available to artists. She sought stewardship from leading art figures including Susanne Ghez, Laura Owens, Franklin Sirmans, Nion McEvoy, and others who served on the Board. As a publication, the organization commissioned texts by notable writers including Nathaniel Mackey, Olivian Cha, and Rita Gonzalez.
In 2019, Meng was offered a hand-me-down space by the artist community, and Friends Indeed was born. Our first gallery location was founded as an absurdly small experimental vitrine featuring works for sale by leading local and international contemporary artists. The gallery borders San Francisco's historic Chinatown and downtown Financial District. In Fall 2021, Friends Indeed expanded to a second location in Bayview. The new gallery is near to the ICA San Francisco where Meng is a founding partner.
As a curator-led gallery, our artwork placements are primarily with museums, foundations or collectors involved with them to support the longevity of the artists we champion. Often times, we work with international curators to organize exhibitions, talks, and special projects. Our gallery-cum-institution reimagines the traditional framework of what a dexterous contemporary art space looks like; borrowing from both to meet the needs of artists today. We support emergent conversations of diaspora in today's hybrid and international canon, mentorship for young artists, with an overall aim of fostering a healthy and equitable arts eco-system in the San Francisco and global art dialogue.
Friends Indeed Gallery is founded by Micki Meng with Eric Li and Nazlı Ercan.
Sign up to receive updates.


Sustainability
Friends Indeed Gallery dedicates at least 10% of its annual profit towards land conservation. As of summer 2022 the gallery is a carbon negative endeavor.


Current Exhibition
Sarah Miska
Tidy
Bayview
Danielle Roberts
Afterglow
Chinatown
Upcoming
Vaster than Empires
Stephanie Temma Heir, Candice Lin, Becca Mann, Catalina Ouyang, Estefania Puerta, Lauren Quin, Lauren Satlowski, Ilana Savdie, and Pauline Shaw
To protect our visitors, the exhibition(s) will be open by appointment only.


Locations
Chinatown
716 Sacramento Street
San Francisco, CA 94108
Valet garage parking is available across from the gallery at 650 Sacramento Street.
Bayview
1720 Armstrong Ave #1A
San Francisco, CA 94124
Easy street parking.


Mailing Address
2442 45th Ave
San Francisco, CA 94116
Gallery Hours
Happily by appointment to hello@friendsindeed.art
Sales Inquiries:
Micki Meng
micki@friendsindeed.art
We offer museum patron discounts to our collectors.
Press Inquiries:
archive@friendsindeed.art


Micki Meng is a dealer, curator and artist advocate working on the West Coast in a global context for over fifteen years. She has held gallery positions at Regen Projects, Los Angeles and Altman Siegel, San Francisco; and curatorial roles with LA><ART, 12th Istanbul Biennale, 9th Shanghai Biennale and The Wattis Institute where she also served as Assistant Director for five years while managing the renown Capp Street Artist Residency. She is founder of &Art&, a publishing & nomadic partnership initiative sourcing solutions for artists in the contemporary moment. She has also been involved with councils and committees such as Artadia's founding chapter in San Francisco, Headlands Center for the Arts, SFMOMA's SECA Art Council, YBCA's Art+Action Committee, Founder of Patrons for Experimental Progress and a co-founder of 8-bridges. As an educator, she has taught and lectured in MFA and Curatorial programs across the Bay Area including CCA, SFAI, and Stanford. She frequently advocates peer and next generation philanthropy for museums.
Eric Li is a graphic designer and software developer based in New York. He graduated from Princeton in 2018 with degrees in computer science and visual arts and is currently a product designer and developer on the Creative Team at the Museum of Modern Art. Current and past collaborators include O-R-G, LUST, Google Design, and IDEO. He has also exhibited his work in galleries at Princeton and LA. Eric is the recipient of the 2018 Jim Seawright Award in Visual Arts.
Nazlı Ercan is a graphic designer interested in alternative models of design making. She received her B.A. in Art and Archeology from Princeton University in 2017. Her clients include Whitney Museum of American Art, O-R-G inc., Wkshps, and more. She lives and works in NYC.